Anne and 4 Daughters Find Lyme Disease Treatment Success at Dr. Dino Prato's Envita Medical Center
ENVITA MEDICAL CENTER | IN THE NEWS
---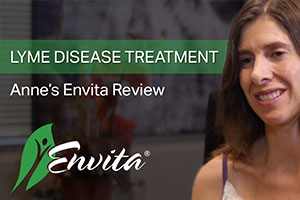 SCOTTSDALE, AZ --(Marketwired - October 12, 2015) - Anne and four of her daughters from Lake County, California suffered with Lyme disease for years before a good friend's referral to Envita for treatment greatly improved their lives. Anne had been lured into a false sense of security due to internet misinformation, which caused her to mistakenly believe that ticks cannot transmit Lyme disease if they are removed from the body before 24-36 hours -- which is far from true. The compelling testimonial can be found on YouTube here.
After coming to Envita, it was found that both Anne and her four daughters each had a different expression of Lyme disease. One daughter had back pain, another had headaches, and one was almost in a wheelchair because of her symptoms. As for Anne herself, she suffered from heavy brain fog. As a result of her family's Lyme disease treatment at Envita, Anne says, "I don't have brain fog anymore…I could feel it leaving. My clarity is so much better and everything here has been wonderful. They gave us information and you learn so much from the patients. Around week 7 my daughters started getting better. It was so wonderful as a parent to see that."
Anne didn't want just any old treatment for her chronic Lyme disease. According to Anne the reason she ultimately shied away from the standard treatment for Lyme disease is that, "Other doctors don't hit Lyme disease very hard and I didn't want to just try some supplements and do a little bit of medicine here and there." At Envita, she was able to receive much more comprehensive treatment. Anne says that, "I would definitely say Envita changed my life because I was really unhappy…my life was falling apart and I couldn't find out why. My doctors helped in many ways, not just with Lyme and the other patients were a great support group as well."
Dr. Dino Prato, the founder of Envita Medical Center, believes that there is a unique healing phenomenon happening at his center. According to him, "Finding the right doctors, technology and healing environment can work wonders for patients, and Anne's story is a perfect example of this phenomenon in full effect. Each patient that suffers with chronic Lyme disease has different complications that come along with it, and that is why Envita tailors and personalizes treatment based on each unique patient; no two patients are the same."