Colorectal and Hepatic Cancer and Cancer Survivor – Jennifer's Envita Review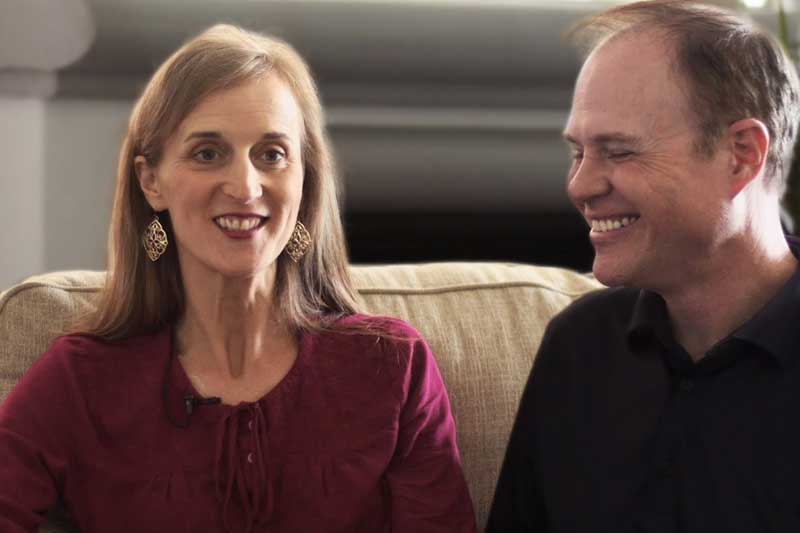 Jennifer was diagnosed with colorectal cancer which would require surgery to remove. What she didn't expect was to find a lesion on her liver that rapidly grew into an aggressive form of metastasized stage four hepatic cancer. Jennifer knew that she would need chemotherapy, but she wanted more options than conventional medicine provided. Fortunately, Jennifer and her husband found out about Envita Medical Center's Genetically Targeted Fractionated Chemotherapy options. With Envita's commitment to personalized integrative medicine, Jennifer was able to receive precision treatment for her cancer.
Envita Medical Centers doesn't make any guarantee of outcomes. Results are not typical and will vary from person to person and should not be expected.
Jennifer noticed something wrong with her body shortly after the birth of her fifth child. She had blood in her stool, but her doctor was dismissive, thinking it wasn't a problem. Jennifer went on to get a colonoscopy, only to confirm her worst fears. She was diagnosed with colorectal cancer that required surgery to remove. Her procedure was successful, but the surgeon did not remove a lesion he found on her liver, which proved to be a mistake. A follow-up MRI would show that the lesion on Jennifer's liver had rapidly grown into an aggressive form of metastasized stage four hepatic cancer.
This cancer was so aggressive that one oncologist assumed Jennifer would only have a year to live with no intervention, and only two years to live if she decided to do standard chemotherapy. Jennifer had to choose between doing nothing or doing aggressive treatments that would potentially decrease her quality of life with debilitating potential side-effects and only minimal extension of life. Jennifer and her husband felt that they were being given "the same old sales pitch." They knew that there had to be more personalized options.
That is when a friend informed Jennifer about Envita Medical Center. She told her about an acquaintance who had amazing success at Envita and suggested that Jennifer check out the integrative clinic. Jennifer had done extensive research into the conventional methods of oncology and interviewed many patients who had chosen that route, and knew she needed a more personalized approach to treating her cancer.
Envita has seen clinically that most tumors and even cancer cells within the same patient can be genetically different, expressing different biomarkers and responding to treatments differently. At Envita, our medical team has developed a precision approach to chemotherapy and other treatments that are genetically targeted, fractionated and personalized to fit the needs of our patients. After watching testimonials and doing research, Jennifer's husband Kevin, got excited about the possibility of Envita being the right choice for them. He told his wife "We have to check out this place, they are doing things at Envita that you are not finding anywhere else." Jennifer and her husband knew that they had to take Envita seriously and they decided to call and make an appointment.
This was the best decision Jennifer could have made. When she came to the clinic Jennifer felt like all her prayers had been answered. Her "all-star team" helped guide her through every aspect and option for her treatment. Jennifer felt like everyone from her PCC Samantha and her nurse, to her physician Dr. Warren where compassionate and dedicated. She could feel Dr. Warren's passion and she could tell that he was truly invested in her. Jennifer was brought to tears when her PET scan revealed that her tumor was rapidly shrinking. She celebrated her success with Dr. Warren and Samantha, it warmed Jennifer's heart to see how happy they were for her. It was not too long before this that Jennifer felt completely hopeless in the face of her disease, now she was able to look to the future again. She had gotten back her hope and could dream about a bright future. Jennifer was amazed at her progress. Her prayers had been answered and she felt closer to God. Jennifer wanted to thank Envita and all its wonderful staff because in her mind "I would not have much longer to live if we had not gone to Envita."
Envita Medical Center is an Integrative clinic that offers personalized genetically targeted cancer treatment that goes beyond cancer type and staging. We offer a Genetically Targeted Fractionated Chemotherapy (GTFC) that can give precision results with potentially less side-effects, improving quality of life and the chance for success. Envita Medical Center specializes in late-stage and complex cancers and we believe that every patient, no matter the cancer type or stage, deserves a fighting chance. If you or a loved one is suffering from cancer, especially late-stage cancer, please contact our Patient Care Coordinators at 866-830-4576 and see what Envita can do to help you. May God bless you on your journey to healing.