Mícol's Advanced Endometrial Cancer Success Story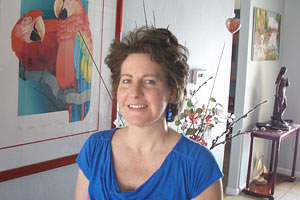 Mícol Sanko had cancer not once, but twice. Her first encounter in 2010 was uterine cancer, resulting in a radical hysterectomy. The doctors detected no other cancer, but recommended radiation therapy anyway. Mícol declined after doing some research on the huge amount of damage radiation can cause.
Envita Medical Centers doesn't make any guarantee of outcomes. Results are not typical and will vary from person to person and should not be expected.
A year later, Mícol was rediagnosed with cancer, this time, advanced endometrial cancer that was much worse and was spreading. Mícol did her homework and decided to get treatment at Envita Medical Centers. While her family and friends were initially skeptical, Mícol promised herself she wouldn't make any decisions based on fear.
At Envita, Mícol was thoroughly tested for infections, toxins and any other indicator that could point to the cause of her cancer. It was revealed that she had many viruses in her system, including Epstein-Barr and Lyme disease. Her immune system was under severe load, an element to her sickness that went totally ignored at the other clinics she visited.
But Envita gave Mícol nutritional and immunotherapy, meaning they drew natural killer cells from her bone marrow, grew their numbers to about 13 billion and then put them back into her system. Mícol says, after her first treatment, she felt lifelong anxiety drift away and she relaxed.
Mícol was sent home for three months in order to let Envita's integrative treatment run its course. According to Mícol, she experienced her stiffness and chronic pain that she'd had over 30 years disappear. She attributes this to the vaccine getting rid of her Lyme disease.
However, Mícol went back to her doctor and was told her cancer had grown. The doctor was upset that Mícol had even considered alternative medicine! And Mícol was recommended high and constant dosages of internal and external radiation treatment, but she ultimately declined.
Why? Initially Mícol thought her vaccine had failed her, but she says she felt stronger than she had in years. She looked healthier, her skin color improved and she says she just felt strong. She continued moving forward, despite the fact that her friends and family were terrified for her.
But Mícol recalls that she asked her doctor at Cancer Treatment Center of America what immune system approach they would take. They said none, and according to Mícol, they didn't seem to care about her immune system. Instead, they recommended constant chemotherapy and said she would have to receive chemo once a year for the rest of her life.
So, Mícol returned to Envita to finish her treatment, using Genetically Targeted Fractionated Chemotherapy. This type of treatment isn't like traditional chemotherapy because it uses genetics and other personalized elements to really get at the root of the cancer and find what works best for the individual. There is no blanket chemotherapy that works best for everyone – everyone is different.
After ten chemo and four targeted radiation treatments at Envita Medical Centers, Mícol says she went home and "knew" her cancer was gone. The following week, Mícol went in and told her doctors this and they listened to her. The doctors at Envita immediately ordered a PT scan, which revealed no cancer.
Mícol has now been in remission for over a year. She says she's overjoyed that Envita made her body do all the hard work for her and as a result, she doesn't have any fear of spreading cancer that lies dormant, like after her first surgery.
If you or someone you know is going through a difficult cancer treatment, contact Envita today to discover what other options you might have to improve your quality of life.