Immunotherapy Cancer Treatment Options
A Better Way Forward for Late Stage and Complex Cancers
---
After decades of research from some of the top cancer institutions in the world, immunotherapies are finally moving to the forefront to help patients with late stage and complex cancers. Unfortunately, these cancer treatments are not traditionally available to cancer patients. Treatments such as oncolytic viruses, genetically modified dendritic cell therapy, natural killer cell therapy, T-cell therapy, and checkpoint inhibitors are all becoming the primary focus of cancer documentaries and will become standard treatment over the next decade in oncology, but access to these highly effective treatments is hard to come by. Fortunately, international integrative cancer centers like Envita Medical Center are utilizing these immunotherapy technologies now.
Envita Medical Centers doesn't make any guarantee of outcomes. Results are not typical and will vary from person to person and should not be expected.
The validation for these treatments has been in the published studies for some time. In 2013, a medical study using T-cells and natural killer cells offered life extending/saving responses for cancer patients who had failed other treatments like chemotherapy. The life extending/saving responses included those suffering from late-stage cancers. Another study, also in 2013, using CD-19 directed chimeric antigen receptors (CAR)-expressing T-cells (natural killer cells) showed dramatic results in the treatment of acute lymphoblastic leukemia as well as B-cell Lymphoma. The complete remission rates reported were as high as 90% with children and adults with relapsed B-cell Lymphoma [1]. In 2015, T-vec, the first United States approved oncolytic virus, became available for the treatment of melanoma. T-vec is a non-pathogenic virus, meaning it only infects and destroys cancer cells without harming normal healthy tissues [2]. Multiple cancer types beyond melanoma and being studied against T-vec's effectiveness in combination with smart immunotherapy drugs [3]. T-vec is only the tip of the iceberg as many new oncolytic viruses are in the pipeline. With these advanced immunotherapies, the patient's real-time cancer cell mutations determine the customized treatments.
Over the last 10 years, the doctors at Envita have been developing highly personalized targeted options for patients that have failed every major cancer hospital in the country. Envita has published several peer reviewed studies on the subject that has paved the way to developing their customized immunotherapy treatment called IMX. IMX, or immune modulation treatment, utilizes an exclusive technology and approach to activating the immune system to help fight cancer. Envita's scientific research paper, "Immunotherapy in Cancer Treatment," published in the Open Journal of Medical Microbiology, focuses on the most significant types of immunotherapies currently available around the world. The research paper, "Autologous Natural Killer Cell/Natural Killer T Cell Immunotherapy of Malignant Diseases," focuses on a specific type of immunotherapy called autologous immunotherapy. This type of immunotherapy plays a huge part in IMX treatment. With IMX, natural killer cells are removed from the patient and multiplied before being reintroduced back into the body. These trained natural killer cells find and attack the patient's cancer target and is what makes all the difference in effective immunotherapy treatment in our clinical opinion. The components offered in IMX are not all FDA approved for cancer treatment in the United States however; Envita believes that treatment combinations like IMX will be the future of cancer treatment.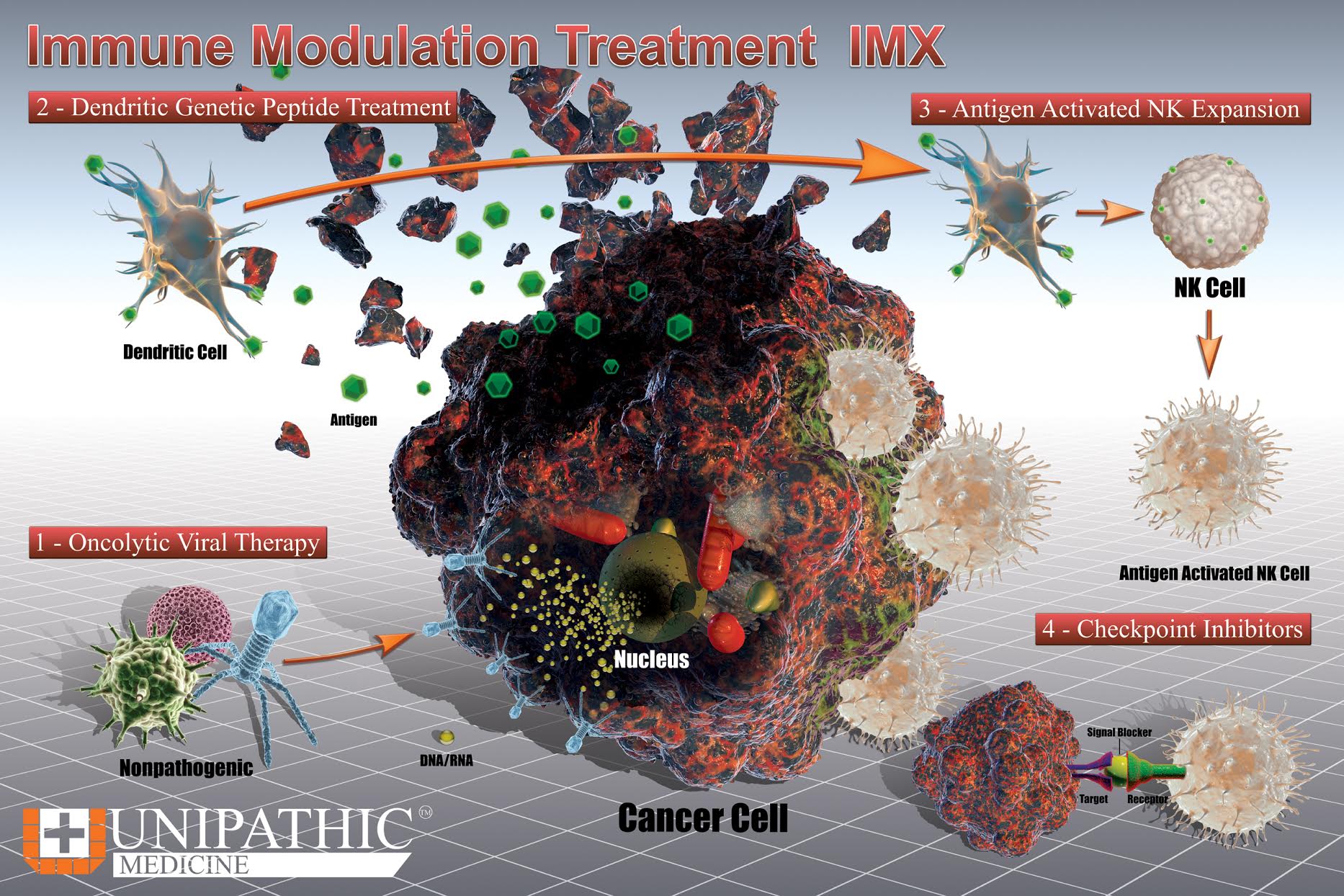 In our opinion, combination-immunotherapies such as IMX allow for a high level of personalization in cancer treatment in order for patients to experience the maximum potential benefits. For any questions or concerns about immunotherapy and IMX or anything else in this article, feel free to contact Envita.
Disclaimer: Some of the treatments mentioned (like IMX) in the above article are not all available in the US and are not FDA approved for the treatment or diagnosis of cancer. Patients should consult with their doctors before undergoing treatment or altering medical care. Envita Mexico is under Mexican law and jurisdiction and in no way does Envita make guarantees or claims of any outcomes for this or any treatment. In cancer treatment, individual results will vary and outcomes should not be expected. The information above is for education purposes only. Not all patient are candidates for IMX or immunotherapies and should consult their doctors.
---
References
Castellino, Alexander M and Zosia Chustecka. "Immunotherapy: Backbone of Future Lung Cancer Treatment?" Medscape. 18 June 2015. http://www.medscape.com/viewarticle/846679.
Smith Aaron, Oertle John, Prato Dino, Immunotherapy in Cancer Treatment Open Journal of Medical Microbiology Vol.4 No.3, September 2014 http://www.scirp.org/journal/PaperInformation.aspx?PaperID=49598
Smith Aaron, Oertle John, Prato Dino, Autologous Natural Killer Cell/Natural Killer T Cell Immunotherapy of Malignant Diseases Open Journal of Medical Microbiology Vol.4 No.3, September 2014 http://www.scirp.org/journal/PaperInformation.aspx?PaperID=49600
Research
1. Grupp SA, Kalos M, Barrett D, Aplenc R, Porter DL, Rheingold SR, Teachey DT, Chew A, Hauck B, Wright JF, Milone MC, Levine BL, June CH. Chimeric antigen receptor-modified T cells for acute lymphoid leukemia. N Engl J Med. 2013; 368:1509-18.
2. Kaufman HL, Kohlhapp FJ, Zloza A. Oncolytic viruses: a new class of immunotherapy drugs. Nat Rev Drug Discov. 2015; 14:642-62
3. J Clin Oncol 32:5s, 2014 (suppl; abstr 9029^)
To better understand our unique approach to cancer treatment: