Chronic Lyme Disease Complex Treatment
Breaking down the barriers to care for Lyme disease patients where other doctors have failed
---
Lyme disease (Borrelia burgdorferi) is one of the fast growing and most difficult to treat diseases in the world. Lyme patients live a life of chronic pain, with various debilitating conditions that affect the mind and body. These conditions leave patients searching for answers to their various symptoms, but with the lack of proper treatment, they experience little success. Because Lyme disease symptoms resemble that of so many other diseases (MS, Fibromyalgia, Lupus, CFS, and many more) and because the conventional medical community continues to be misinformed about diagnosis and treatment, stricken patients fail to receive the medical care necessary to restore their health. However, over the past 17 years Envita has been helping patients overcome the misdiagnoses and misinformation associated with conventional and alternative medical treatment of Lyme disease.
Envita Medical Centers doesn't make any guarantee of outcomes. Results are not typical and will vary from person to person and should not be expected.
To help better understand the difficulty of differentiating Lyme disease from other diseases we have included a chart from a recent published study in the Medical Microbiology publication which shows the similarity of symptoms between Lyme disease and other commonly misdiagnosed diseases.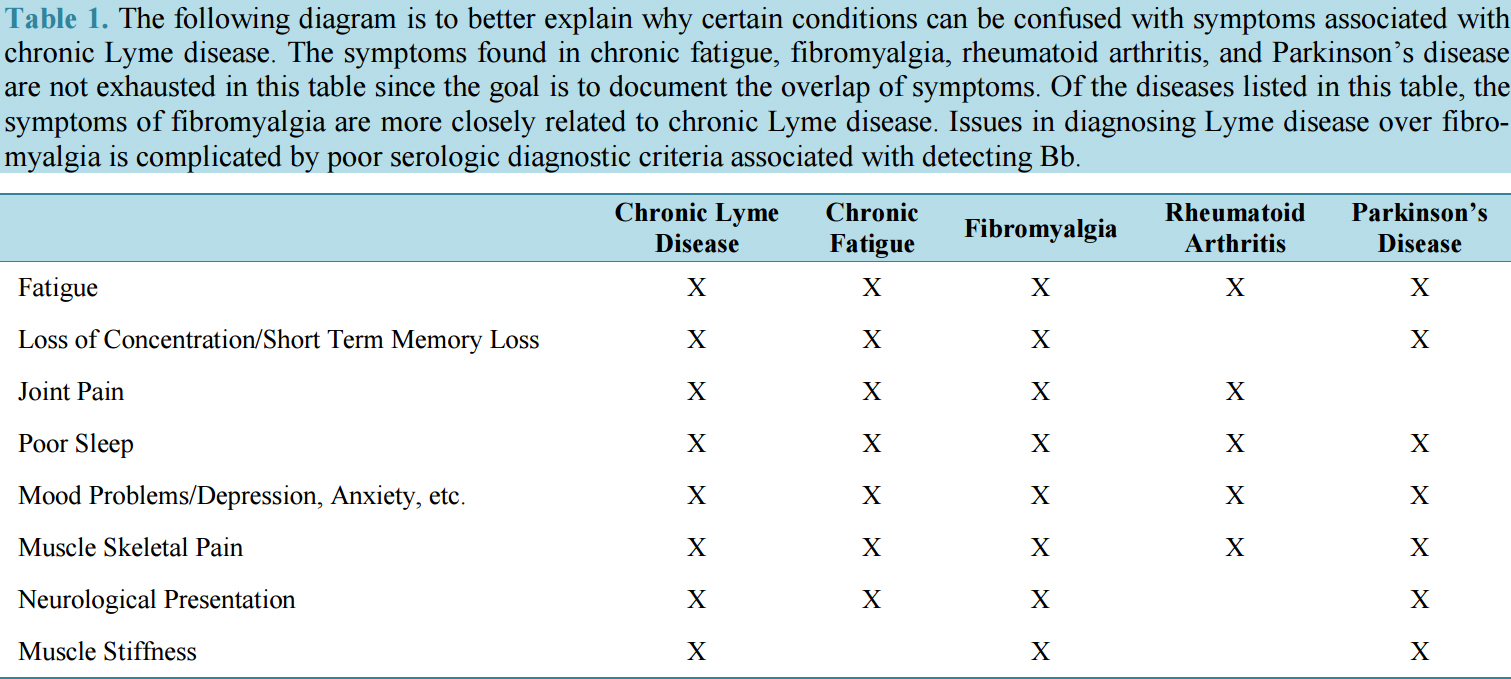 Image excerpt from Borrelia burgdorferi: Cell Biology and Clinical Manifestations in Latent Chronic Lyme
The previous diagram is just a small sample of the many symptoms associated with Lyme disease, but the similarities between Lyme and other common diseases can be easily seen.
Dr. Dino Prato the founder of Envita Medical Center states, "By identifying the coinfections and neurotoxin factors that most other doctors don't look at, and utilizing specific treatments to attack those factors, our expertise in Lyme disease treatment helps improve the outcomes for our patients."
What is Lyme Disease Complex?
Lyme Disease Complex is the collection of coinfections and neurotoxins that reside in the patient's body, aside from Borrelia. In the world of conventional medicine protocols, there is often lively debate regarding whether chronic Lyme disease is truly a disease. It is recognized that patients do indeed suffer from Lyme disease symptoms associated with Borrelia, but it is believed that the standard course of antibiotics is all that is necessary to cure the disease. In our experience, while this treatment method may work for some early-stage Lyme disease patients, the vast majority do not receive treatment early enough and Lyme is allowed to progress into a chronic condition. This is where Envita's reputation and specialty in understanding this disease comes into play.
We have seen clinically that when these coinfections are not addressed through proper diagnostic methods, patients will continue to suffer from the host of diseases present. Unfortunately, most care providers do not have access to specialty type testing and therapies that have been developed specifically for this patient group. However, Envita is a constantly evolving clinic that utilizes the latest scientific-based evidence to consistently develop newer and better treatment options for Lyme patients.
The Reality of Lyme Disease Treatments
Envita Medical Centers doesn't make any guarantee of outcomes. Results are not typical and will vary from person to person and should not be expected.
If Lyme disease is detected early, it can be treated rather well with a course of antibiotics. However, in a huge majority of cases, Lyme disease is not addressed by either the patients or their physicians at its onset. For patients who have had Lyme disease for more than a year, significantly more aggressive Lyme disease treatment must be utilized.
The standard prescription of antibiotics is categorically deemed insufficient when treating Lyme disease complex or as a sole Lyme disease treatment. Antibiotics do not help the body to destroy the mycotoxins or BLP (bacteria lipoprotein neurotoxins) caused by Borrelia, nor are they effective in treating the various viral, fungal, and parasitic co-infections attendant to Lyme disease. These coinfections are existent in some varied combination in virtually every Lyme disease patient and must be dealt with for proper disease treatment.
In Envita's experience, it is not uncommon to notice four or more combinations of infections in chronic Lyme disease patients. Often months of treatment are incumbent to remove the stubborn Borrelia from the body, not to mention the multitude of other attackers liberated by the presence of Lyme disease complex in the body. Simply administering medication will not be successful and can even further complicate matters. Chronic Lyme disease treatment requires an organized and customized program that includes reestablishing immune function for patients. The need for proper treatment is why Envita has been excelling at creating individualized patient treatment plans to attack the specific coinfections while rebuilding the immune system, detoxifying the body, and correcting hormone deficiencies to help prevent further recurrence of disease.
Our Experience Makes the Difference
We have worked in the field of Lyme disease research and Lyme disease treatment for 17 years. Our experience has prompted more efficient, effective progress in Lyme disease treatment. We address and examine all factors of Lyme disease, including Lyme's coinfections which are just as critical as direct treatment of the primary disease. Understanding the concept of co-infections and body's homeostasis imbalances are the reason we are able to see beneficial results in patients.
Our Approach
Because Lyme disease is so complex, extensive and comprehensive treatment is required. Lyme disease treatments at Envita are not limited to antibiotics, but instead are administered in conjunction with aggressive natural therapies originating from all over the world.
We take an integrative approach to Lyme disease treatment by providing the latest technology with the best treatment options to utilize anti-viral, anti-parasitic and anti-fungal approaches, specific to the coinfections and symptoms present in each patient. By addressing every Lyme disease complex factor, we achieve superior results with our incomparable Lyme disease treatments.
We implement innovative treatments to help patients achieve an intensive-grasp of their disease, thereby providing them with the ability to conquer. Our comprehensive approach to treatment helps speed healing-time, enhance quality of life, and minimize the recurrence of Lyme disease. To learn more about our Lyme disease treatment protocols or if you have any questions about Lyme disease itself, contact us now at 1-866-830-4576, or fill out the contact form and a Patient Care Coordinator will reach out to you to answer all your questions.
We hope to introduce you to our revolutionary and personalized approach to treating chronic Lyme disease. This is something we have developed after over a decade of treating the most difficult cases. It's important to recognize that every patient is unique and requires a detailed level of customization. To that end, every treatment at Envita is customized for every unique individual, and we are only scratching the surface. To learn more about how we can help you, contact one of our patient care educators today.
Understanding Chronic Lyme Disease Complex and Its Treatment
Lyme Disease Evades Antibiotics Through Biofilm Colonies – Dr...