Chronic Fatigue Patient Suffering With Depression and Anxiety Discovers Treatment at Envita Medical Centers and Gets Her Life Back; Dr. Dino Prato Provides Insight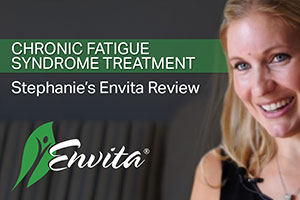 SCOTTSDALE, AZ--(Marketwired - October 06, 2015) - Chronic fatigue syndrome, depression, and anxiety are all complicated disorders that together affect an estimated 56 million Americans. Stephanie, a patient from California, had just become another one of those statistics. She was a patient who had to, "organize her life around being tired," and who suffered from intense anxiety and depression. After years of going doctor to doctor with treatments trying to minimize her symptoms, she eventually found Unipathic Medicine and Envita Medical Centers and has finally been able to get her quality of life back.
Stephanie's symptoms began shortly after a car accident that resulted in bruising on both sides of her brain. Following that event, Stephanie struggled with memory loss, vision problems, speech issues, and chronic fatigue for over a year. She was told by doctors to either take heavy medication, which had horrible side effects, or to let the bruises possibly heal over time. Her chronic fatigue was ruining her life, and she would sleep about 15 hours a day, unable to do simple tasks because of her debilitating fatigue.
Another 4-5 years progressed and Stephanie was at the point of organizing her life around being tired, causing endless anxiety and depression. Not wanting to accept her fate, Stephanie visited many different neurological specialists and counselors but they couldn't give her any helpful information besides more medication to treat her symptoms. She had all but "given up," until her sister referred her to Envita, and Stephanie soon began healing.
Today, Stephanie happily reports that her anxiety and depression are gone and her fatigue has all but disappeared. Dr. Dino Prato, Envita's founder, had this to say: "Creating Stephanie's proper medical blueprint was the key to getting her well again. Every patient is different and identifying the causes and then having the technology to treat them is the biggest difference Envita makes for its patients."
Nowadays, according to Stephanie, "I'm not stressed about tomorrow and how tired I'm going to be. I was hopeless but now I feel that the sky is the limit. I can exercise, run every day errands and I feel like I function at a much higher level than I was before." She says, "Nobody had given me any energy over the last 6 years except Envita. I am just miles ahead of where I was."
For more information about the remarkable turnaround that Stephanie underwent with her chronic fatigue, depression and anxiety or to view more amazing testimonials, visit www.envita.com.