Envita Medical Centers Reveals Innovative Cancer Treatment to Congressman Matt Salmon and Goldwater Institute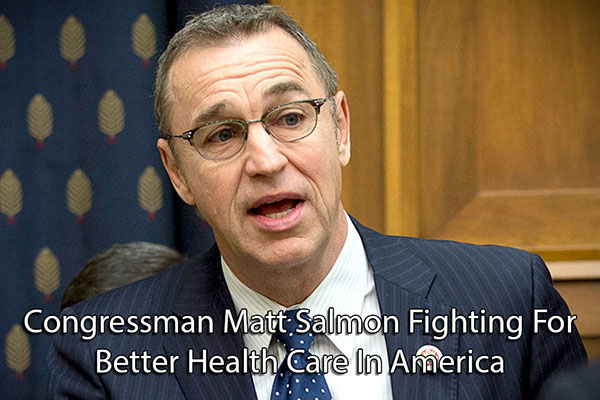 SCOTTSDALE, AZ--(Marketwired - April 23, 2015) - Envita Medical Centers recently met with Congressman Matt Salmon of the 5th district of Arizona, as well as some other key representatives from the Arizona Governor's office and the Goldwater Institute, to discuss how patients may be missing out on the best technologies and medical care for cancer. Arizona is a hotspot for advanced cancer treatment, and patients have flocked to the state to experience the cutting edge of medicine. Envita's founder, Dr. Dino Prato, gave a presentation which highlighted the shortcomings in the current medical system, as well as demonstrated the key technological aspects that can potentially lead to better cancer treatment. The hope here lies in furthering change in Washington D.C. and making sure that effective and viable medical options are given to patients struggling with late stage and hard to beat cancers.
Congressman Salmon is already leading the way in healthcare reform and attempting to ensure that patients have access to the treatments and plans that they prefer. Many times, late stage cancer patients are abandoned in hospice (if cancer treatment fails), or the medicine that could possibly save their lives is unavailable to them. The good news is that it is not too late for these patients and a true second opinion is available for them at Envita.
Another highlight of the meeting was centered on the Right to Try law, which was recently passed in Arizona and is spearheaded by the Goldwater Institute. For clarification, the Right to Try law allows terminally ill patients, with the approval of two doctors, to access drugs that have passed phase 1 FDA clinical trials and met initial safety requirements. This allows patients to receive the treatments that could potentially save their lives. The law is swiftly gaining momentum across the country, and it is also supported in other states including: Colorado, Utah, Virginia, Louisiana, Michigan and Missouri, among others.
The Goldwater Institute, who was instrumental in the Right to Try law passing in Arizona, is hopeful that Envita's world class technology and innovative treatments can benefit terminal patients, who really have nowhere else to turn. Envita utilizes unique treatments based off of biomarkers, as well as powerful immunotherapies, which many times benefit late stage cancer sufferers. To learn more about the latest developments, or current breakthroughs in cancer and chronic disease treatment, visit us at www.envita.com.