Envita Medical Presents Tailored Treatments for Advanced Cancer and Chronic Lyme Disease to AZ State Senator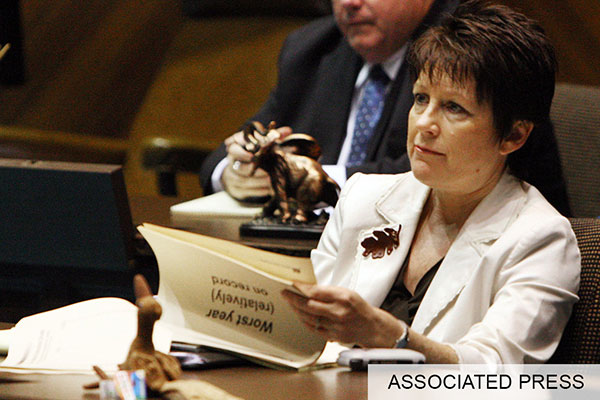 SCOTTSDALE, AZ--(Marketwired - June 09, 2015) - Recently, Dr. Dino Prato, the CEO of Envita Medical, presented to Arizona State Senator Nancy Barto new and exciting treatment options for cancer and chronic Lyme disease. Arizona is a well-known national medical hub for the Southwest with names like Mayo clinic, MD Anderson, Cancer Centers of America and many other integrative healthcare practitioners flocking to the state. What separates Envita from the rest of these hospitals and centers is that Envita is a national leader in personalized integrative medicine, whose unique technologies bring together some of the best treatment options from all over the world to help patients that have typically failed elsewhere.
Dr. Prato explains that, "Envita has found patients with late stage cancers and chronic ailments such as chronic Lyme disease and autoimmune diseases to have huge gaps in their treatment plans along with an incomplete diagnosis. Through personalized testing and tailored treatments, Envita finds better options for our patients." Matters are made more complicated in today's health care environment as certain restrictions on personalized care for patients is being made worse by increases in insurance cost and a lack of access to better health care technology. The importance of the meeting with Senator Barto was to increase awareness of the need for better individualized and personal integrative care for patients with cancer and chronic Lyme disease.
The main topics of conversation during the Senator Barto/Envita meeting were centered on new treatment strategies, current medical treatments that Envita already provides with more targeted options, and discussion on the Right to Try laws in Arizona and the rest of the country. Envita has found that many patients around the country are struggling with the lingering symptoms of chronic Lyme disease, and the many times non-existent or inaccessible treatment for late stage cancers. According to Envita, doctors need better training on chronic Lyme disease diagnosis and treatment, including co-infections, possible biofilm complications and heavy metal toxicity. Respectively, cancer needs to involve a focus more centered on actionable targets and biomarkers to effectively treat patients. The new Right to Try laws that were discussed by Envita and Senator Barto provide exciting options for late stage cancer patients and their doctors with the ability to access potentially lifesaving drugs that are currently in phase 2 clinical trials. These laws are instrumental to helping terminal cancer patients get the treatment options that they need. Getting pharmaceutical companies to partner with Envita, however, has been difficult as their main interest is not patient care but generating capital. Envita wishes to reverse the outdated mentality and broken system inherent in the current medical model and strives to bring the best of technology, testing, and treatments to patients that need them now.
To learn more about Envita or view us in the news, visit us at: http://envita.com/category/in-the-news.