Barbara Kowaldo - How Envita Helped Her Win the Fight Against Recurring Breast Cancer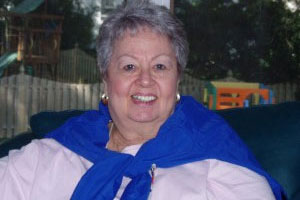 At the age of 72, Barbara Kowaldo, mother to two daughters and grandmother to four grandchildren, is happy to be in cancer remission. A New Jersey resident, Barbara has battled breast cancer twice in her life. Twenty-eight years ago, Barbara underwent a single radical mastectomy.
Fast forward twenty-five years, where Barbara was diagnosed with breast cancer for a second time. This round, her surgeon said it was a "good catch." A lumpectomy was scheduled which removed nine out of thirteen positive lymph nodes, as well as the tissue surrounding them. After surgery, Barbara was told that she only needed a little radiation.
In her initial consultation with her oncologist, Barbara was given a very different impression. Her oncologist recommended an extremely aggressive protocol, a prescription that included four months of IV chemotherapy, for which she was immediately given a prescription for a wig. On top of this treatment, two months of radiation was also prescribed, which would follow with five years of hormone therapy called Tamoxifen. Her doctors explained to her that although the surgeon had removed the cancerous lymph nodes, she would have a seventy-five to ninety percent chance of a recurrence.
With the overwhelming degree of treatments prescribed after surgery, Barbara's daughter insisted that she seek alternative means of therapy. By visiting a chiropractor, Barbara began her education on natural medicine and detoxification. During this time, she was given a video about a doctor who also had cancer.
Barbara recalls her story, saying, "She described her own experiences as a surgeon in San Francisco who got cancer and sought out a natural solution. She did this knowing from her experiences in medicine that traditional drugs used as chemotherapy did more harm than good. It was after watching the video and hearing what she had to say about the commercialism involved, that I knew I would never use any of the medicines oncologists recommended. I would never do any traditional chemotherapy."
In her decision to seek out natural treatments for her cancer, Barbara's youngest daughter, Jeri, introduced her to Envita Medical Center. Envita is a clinic focused on advanced integrative medicine for cancer support utilizing cancer therapies from around the world. Being from New Jersey, Barbara and her daughters contacted the Envita staff and arranged a visit to Scottsdale, Arizona.
Barbara says, "Our intention was to bring the recommendations home and find a doctor in our area to fulfill the protocol. After visiting Envita and seeing the advanced options they provided, we knew it was impossible to seek care elsewhere. We knew we had to be in Arizona to receive the proper treatments." Because Envita is the only clinic in the United States offering truly therapeutic research-based therapies for patients, Barbara's option for the most advanced care depended greatly on Envita's natural therapies.
After six weeks of treatment at Envita, Barbara went home with excellent results. One year later, she continues her healthy lifestyle and her cancer markers are still in the normal range. She says, "Envita has guided me well! I miss the people, the positive environment and the warmth and the caring friendships of the staff. It goes without saying that I would recommend Envita to anyone."