Lyme Disease Treatment - Melissa and Maeve's Envita Review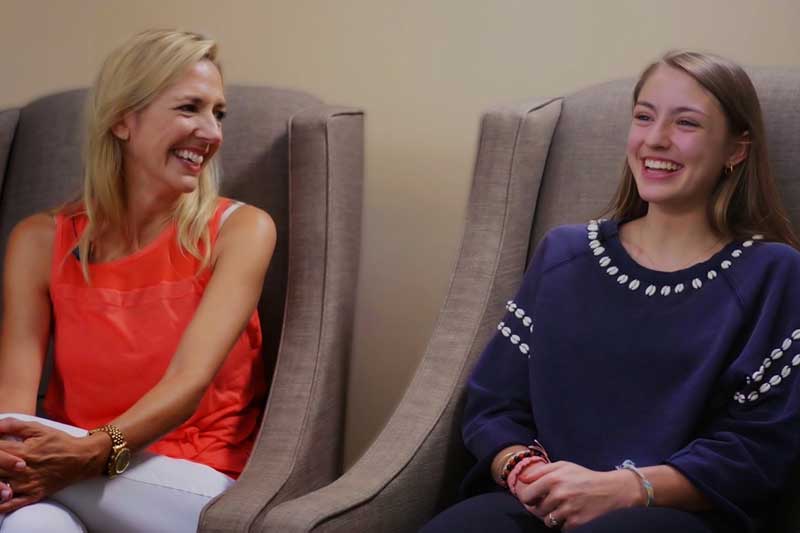 Melissa and Maeve's story is one of perseverance and tenacity that inspires us all to fight for ourselves and our loved ones. Both Melissa and Maeve had to overcome years of debilitating symptoms and multiple misdiagnoses before they made it to Envita Medical Centers. Now they are excited to return home with a newfound outlook for the future. They credit Envita and the compassionate staff for all the progress they have been able to make against their chronic Lyme disease complex. With almost two decades of experience treating Lyme disease and Chronic Lyme Disease Complex, Envita was able to provide care and understanding on a level no other clinic in the nation could top, In Melissa's eyes Envita "literally saved my life."
Envita Medical Centers doesn't make any guarantee of outcomes. Results are not typical and will vary from person to person and should not be expected.
Melissa spent ten long years plagued by a multitude of health problems before she was able to get a correct diagnosis and effective treatment. Her journey to finding relief was long and arduous, much like many of those out there suffering from Chronic Lyme Disease Complex. Conventional medicine failed to identify her Lyme disease on multiple occasions because of the highly unreliable Western Blot and ELISA combination they use. These tests look for immune markers that may be suppressed by the disease itself and can have a false negative rate of around 50%. Melissa experienced this first hand, having taken these tests on five separate occasions and being incorrectly diagnosed each time. After spending nearly two decades treating Lyme disease Envita has developed a test for identifying Lyme Borrelia and the multitude of co-infections that contribute to chronic Lyme disease. Our highly accurate test looks for DNA to conclusively identify Borrelia and any fungal, bacterial, or viral co-infections. This test also provides quantifiable data that helps us track the progress of our patients and adjust our treatments to be pinpoint accurate.
Another important aspect of Melissa's condition was her neurological symptoms. Her brain fog and muscle pain were a sign that Borrelia had entered her Blood-Brain Barrier and was causing problems with her nervous system. Envita is uniquely equipped to combat the neurological presentations of Lyme disease by using a proprietary treatment that shuttles antibiotics past the Blood-Brain Barrier. This treatment helped Melissa progress against her disease and return home to her family and daughter, but her journey was not over. Melissa would have to use her experience and tenacity to advocate for her daughter Maeve as she struggled with her own fight against chronic Lyme disease.
Maeve experienced symptoms of Lyme disease from a very young age and took a steep decline in health after experiencing a concussion. Our experience has taught us that Lyme and its co-infections can lay dormant in patients for years and only present itself during times of physical or emotional trauma. Melissa recognized many of the symptoms Maeve was experiencing so she promoted for her daughter to be tested for Lyme disease. However, the conventional testing method failed to correctly diagnosis Maeve multiple times as well. When, finally, Maeve was identified being Lyme positive, Melissa did not hesitate to go to Envita for her daughter's care.
At Envita, Melissa felt compassion and understanding that she had never experienced from the more than thirty doctors she had been to before coming to Envita. From the moment she sat down and talk with her lead Physician Dr. Warren, she knew that her care was going to be a collaborative effort to achieve the best possible results for her. Melissa said that she could see the passion Dr. Warren put into caring for her and hear his excitement when she progressed. She wanted that same investment in excellence for her daughter, and eagerly agreed to have Dr. Warren handle Maeve's care
When Maeve came to Envita she quickly realized that her mother was right, "this is an amazing place, everyone is so caring so nice." Maeve could feel that Envita and its staff truly cared about her and in turn, that made her feel better about herself. Maeve said that she met people she would never forget and that being able to leave Envita feeling better meant the world to her. What Maeve may not realize is that being able to help people get better means the world to us and is immensely rewarding. Envita started treating Lyme disease patients because we saw an opportunity to help those who were failed and overlooked by conventional medicine. Our goal is to help the desperate and disregarded chronic Lyme disease community. We get just as much from brave people like Maeve and Melissa as they do from us.
Melissa and Maeve are excited to return home to a normal life so they can spend time with their loved ones. Melissa is particularly excited to be able to enjoy the wide and wonderful world of food that is now available to her and Maeve can't wait to see her dog who she lovingly refers to as her baby. Melissa says that coming to Envita and bringing her daughter here for treatment were the best decisions she has made in her life. If you or a loved one is suffering from Lyme disease or a potential misdiagnosis, please don't hesitate to reach out. We have a team of highly trained professionals who can help answer your questions and set you on the path to healing. Please contact our Patient Care Coordinator team at 866-830-4576 and let us help you get your life back.