Lyme Disease Treatment – The Timm Family's Envita Review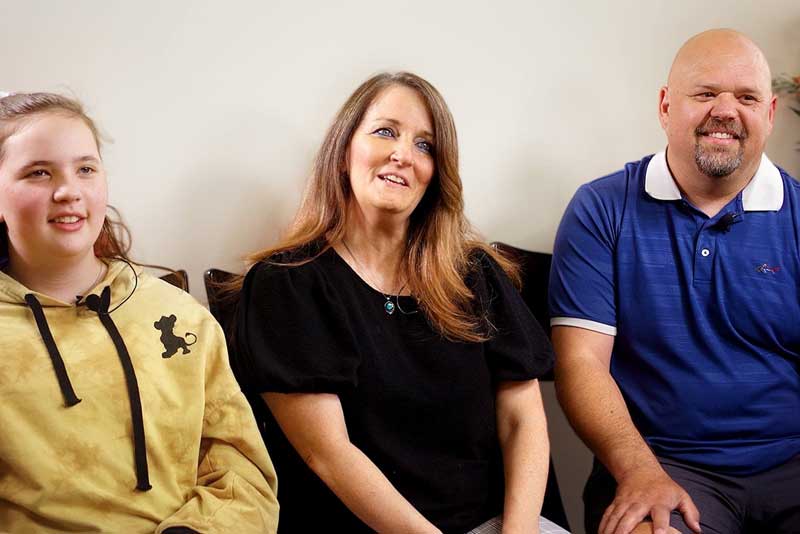 Jeff Timm is one of Envita's many success stories. He underwent treatment for Lyme disease at our world-class clinic, and he achieved results he never thought possible. However, Jeff not only received treatment for Lyme from Envita, but also received valuable education about the disease. So, when his wife Tami and daughter Jeni started showing a wide range of unexplainable symptoms, Jeff and his family knew that they could trust Envita Medical Center.
Envita Medical Centers doesn't make any guarantee of outcomes. Results are not typical and will vary from person to person and should not be expected.
Envita specializes in personalized treatment plans for Lyme disease and other chronic infections. Our highly experienced staff helped the Timm family by building individualized medical blueprints created from world-class testing, including our proprietary pathogen test. In our 20 years clinical experience treating the most difficult chronic infections, we have seen Lyme disease exhibit more than 300 different symptoms. Each of the Timm family members had vastly different symptoms with distinctive infectious loads. They, like all chronic Lyme disease patients, required personalized treatments to properly address their conditions. Envita Medical Center offers a variety of specialized treatment uniquely personalized to target Lyme disease and its multiple co-infections.
In 2005 Tami began having significant heart issues, to the point where she was "In and out of the hospital thinking I was having a heart attack." Tami was also suffering from numbness in her extremities, dizziness, and persistent ringing in her ears. Tami and Jeff attribute the onset of her symptoms to the stress she endured while Jeff was undergoing his Lyme disease treatment plan.
This comes as no surprise to our team. Throughout Envita's nearly two decades of treating Lyme disease related symptoms, one of the most common reports from patients is that they began having serious symptoms after sudden, traumatic, or stressful events in their lives. Stress and trauma have a negative impact on the immune system, and the infections that cause Lyme disease thrive on a compromised immune system.
Therefore, Envita utilizes advanced, targeted immunotherapy and immunotherapy adjunctive protocols to revitalize a patient's immune system and help rid the body of harmful bacterial, viral, and/or fungal invaders. By incorporating immunotherapy into our protocols, Envita aims to help improve our patient's outcome and provide lasting results.
Later, in 2018, Jeff and Tami's daughter Jeni also started developing worrisome symptoms. Jeni was having terrifying grand mal seizures. Jeni asked her mom if she thought it might be Lyme related, and sure enough, Jeni tested positive for tick-borne infections. Because of Jeni's age, it would take some time before she would be able to come to Envita. Envita is not a pediatric facility and we cannot treat Lyme patients under the age of 15.
Although they were unable to get Jeni into Envita right away, Tami thought it would be better to wait for the right, targeted treatment, rather than waste valuable time and money on treatments that were not at Envita's level. Regardless, her Patient Care Coordinator Samantha was still in contact with the Timm's almost every day. Tami said, "it did not matter what time it was; she was right there with us.
Then when Jeni could come to Envita, she felt like, in her words, "I trust these people." She saw the compassionate and determined treatment Envita and its staff gave her parents and she knew that they would do the same for her. In Envita Medical Center's 20 years of treating patients, we have found that providing a caring and supportive environment around our patients can be just as valuable as the world-class testing and personalized treatments we offer. Every member of the Envita Family, from the doctors and nurses to the amazing staff, takes enormous pride in their work and being able to help the Timm family regain their quality of life. It is immensely rewarding to all of us in the Envita Family.
Envita Medical Center and its dedicated staff helped the Timm family get their lives back. Though each member of the Timm family presented with different symptoms and unique infections, Envita was able to identify their unique infections and create personalized treatment protocols to respond to their individual circumstances. Lyme disease is a vastly complex condition that can present over 300 different symptoms and incorporate a multitude of infections. Envita's staff possesses over a hundred combined years of experience identifying and treating Lyme and Lyme related infections.
If you or a loved one has or suspects Lyme disease, please contact our Patient Care Coordinator team at 866-830-4576 and let us help you get your life back.