Envita Unveils New Cancer Treatment: Genetically Targeted Fractionated Chemotherapy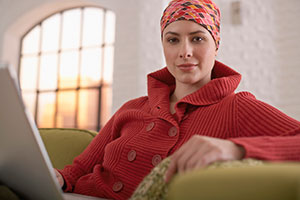 The future of cancer treatment and chemotherapy just got whole lot brighter for patients. Imagine responding to treatment where others may have failed and without experiencing the same harmful side effects. Imagine using the best of genetic testing to find what drug will precision target your tumor at peak effectiveness. Well, it's possible and it's called GTFC™ (Genetically Targeted Fractionated Chemotherapy). There are many burning questions and concerns about chemotherapy and what direction the medical industry should take while proceeding with more advanced cancer treatments. Dr. Martin Tallman, chief of the leukemia service at Memorial Sloan-Kettering Cancer Center says, "I think we are definitely moving farther and farther away from chemotherapy, and more toward molecularly targeted therapy." Here at Envita, we couldn't agree more and we believe that effective cancer treatment shouldn't just follow a pharmaceutical drug recommendation but utilize personal genetics and markers.
From Dr. George Demetri, senior vice president of experimental therapeutics at the Dana-Farber Cancer Institute: "We're moving toward a more precise understanding of cancer, and being able to tailor therapies toward an individual's cancer." The belief that standard chemotherapy is outdated is becoming more prevalent in this country and we believe GTFC™ or Genetically Targeted Fractionated Chemotherapy to be one of the important keys to helping patients.
To treat cancer effectively, you have to understand that cancer is caused by epigenetics – factors (infections, chemical toxins, heavy metals) that change genetics or mutate genetics, which likely represent about 95% of cancer causes. Cancer usually develops over many years of metabolic changes that lead to things like chronic inflammation and constant mutations. It makes perfect sense that successful treatment would focus on the genetic platform, and molecular targeting. Having translational cancer genomics, biomarkers and molecular profiles is like having much better blueprints to treating the patient and providing a better way forward. Focusing on the genetic typing and molecular profiling of the cancer tumor gives the patient an advantage over limited standard of care that is based on old pathology and protocols made for the masses. There can be different mutations of the same cancer in a patient's body so this molecular profiling becomes increasingly useful when these cases occur. Two patients with the same cancer type and staging respond totally different to treatment because their molecular profiles are constantly changing as cancer progresses. This flies in the face of old model of chemotherapy drug testing and approvals.
Imagine there already being many wonderful therapeutic cancer agents but not being able to match it with the patient's specific cancer and metabolic factors. That is the current crisis of oncology today but this all changing and it can't happen fast enough. Oncology as a whole enjoyed success with mainly early diagnosis linked to treatments like surgical removal, but this newer method offers more advanced, resistant and difficult cancers better options going forward.
GTFC Is Unique
Here are the basics. First, genetic molecular profiling is used to find patients' cancer cells. Next is targeting cancer cells via glucose metabolism. Glucose accelerates cancer (cancer gets its nutrients from glucose therefore contains more insulin receptors) so this is one metabolic factor that distinguishes cancer cells from healthy cells. From a metabolic pattern, cancer cells have on average 12-36 times more insulin receptors that use glucose as their main source of energy. In addition, we apply a multiple mechanism combination of tumor kill to help reduce resistance to treatment, include immunotherapy to help reduce resistance, include inflammation and signaling blocking to help reduce resistance, and instead of using the typical protocol of one or two drug regimen mechanism of tumor kill our method, GTFC™, can combine 6 or more targeted multifaceted (different mechanisms of action to fight the cancer) approaches all while significantly reducing typical side effects patients dread. In our proprietary GTFC™ delivery method we utilize fractionated micro dosing and delivery to help achieve our goal. This is what we call a highly personalized and integrative approach, which is really taking cancer treatment to a whole new level. The GTFC™ process provides a more detailed testing and in our opinion better diagnosis to help discover and treat the cause of cancer. Epigenetic pathways are tested and isolated and represent various factors that are linked to causes of cancer like infections, growth factors, chemical toxins and heavy metals that cause cancer to accelerate. The spread is addressed in GTFC™ to help halt tumorigenesis throughout the body, and we are focused on returning patients to good health.
Why Genetics Matter in GTFC
A large component of GTFC™ is genetic molecular profiling of the tumor, where we must look at the biomarkers of cancer. A biomarker may be a molecule secreted by a tumor or a specific response of the body to the presence of cancer, and genetic biomarkers can be used for cancer diagnosis and epidemiology. Molecular profiling can especially benefit cancers that traditionally responded to chemotherapy, but it is even more important for late stage and resistant cancers. Here's how it works: once the gene expression pattern (oncogene) is determined, the information is compared to the expression profiles of cancers with known outcomes, using a predetermined algorithm. The algorithm then places the cancer into an outcome based on similar gene express patterns and biomarkers. According to this type of detailed testing, we have found on average that 75% or more of patients were previously on the wrong chemotherapy.
We know that the problems with high-dose and protocol-driven chemotherapy treatments are the many adverse side effects, which depends on the type of medication used. We take this into account and that is why GTFC™ is a micro dose, so it highlights reduced side effects. The goal is to keep the patient as comfortable as possible and speed up the healing process by combatting each unique case through specialized treatment. We are truly excited because cancer treatment doesn't have to be a one size fits all model. As the future progresses with methods like GTFC™, these highly personalized methods of testing and treatment will, in our opinion, continue to move oncology forward and into the future for patients. If you have any questions or wish to learn more about Genetically Targeting Fractionated Chemotherapy, feel free to contact us.