New Envita Study Explains How Lyme Disease Evades the Immune System, Forms Biofilm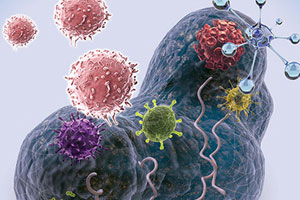 Our medical center, Envita, has just published an important new study which reveals the key complexities that must be addressed to finally overcome Lyme disease. This study explains how chronic Lyme disease ultimately resists most treatments via immune evasion, biofilm formation and constant (surface antigen) shifting. All of these factors often lead to antibiotic resistance and failed medical treatments.
Envita Medical Centers doesn't make any guarantee of outcomes. Results are not typical and will vary from person to person and should not be expected.
Our paper is titled, "Chronic Lyme Disease: Persistent Clinical Symptoms Related to Immune Evasion, Antibiotic Resistance and Various Defense Mechanisms of Borrelia burgdorferi," and is featured in The Open Journal of Medical Microbiology. In the study, we point to the key complications that arise by Borrelia's stealthy ability to change genes and ultimately alter the exterior outer surface (antigens) of the bacteria in a manner that "confuses" the patient's immune system to recognize and fight the infection. Another problem that we mention is attributed to biofilm communities (protective coatings of microorganisms), which make treatment difficult by protecting Lyme disease from antibiotic effectiveness.
The hope behind revealing the mechanisms of action in Lyme disease bacteria is to lead medical professionals to possess the insight and knowledge to help more effectively approach treatment of the disease, something Envita has been doing for a decade. The other reason for the study's release was to show patients and the public just how complicated Lyme disease really is and that better, more comprehensive treatment is needed.
Early detection; in addition to highly personalized, comprehensive treatment, will provide the best viable options for patients.
In our study we explain that, "Borrelia has the unique ability to evade the immune system through the regulation of membrane proteins, variable surface proteins, the ability to migrate to regions where it is not exposed to the immune system or antibiotics, invagination or invasion within various cells, and the potential to produce biofilms." It should be noted that these disguises do not fool antibiotics, but they do buy the bacteria time to find a hiding place and create protective environments such as biofilm, making antibiotics alone useless in most chronic cases.
Borrelia burgdorferi is not technically a super bug, but it sure can feel like one, especially if you've had Lyme disease for years and aren't getting better. Unlike super bugs, Borrelia is susceptible to antibiotics during the early infectious stages in most patients. However, if Borrelia is not treated early and aggressively, it has the opportunity to hide itself by squeezing between cells or by potentially creating biofilm communities, which in turn hides it from exposure to antibiotics and the immune system alike. When the Borrelia bacteria persistently lingers in a patient's body, co-infections, immune down-regulation and secondary co-infections such as viruses can create a complex biological environment that make treatment difficult but not impossible.
Envita has found that most all chronic Lyme disease patients suffer with multitudes of infections to include other tick-borne co-infections, viruses, fungi, mycotoxins, and parasties. Heavy metal toxicity presents an additional problem as do numerous complications caused by neurotoxins emitted by the infections that bring about neuropathy, depression, memory issues and many other neurological and hormonal disruptions. When Borrelia penetrates the blood brain barrier, we see a serious lingering central nervous system involvement that requires specialized treatment. In response to all of these complications, our center has developed unique treatment plans to help patients that have many times failed care elsewhere.
To see all of the defense mechanisms of Borrelia and Lyme disease in detail, a full version of the published paper can be found here at: http://www.scirp.org/Journal/PaperInformation.aspx?PaperID=52890#.VK2lFivF8WI
If you have any questions about Lyme disease or are seeking treatment, contact us today.